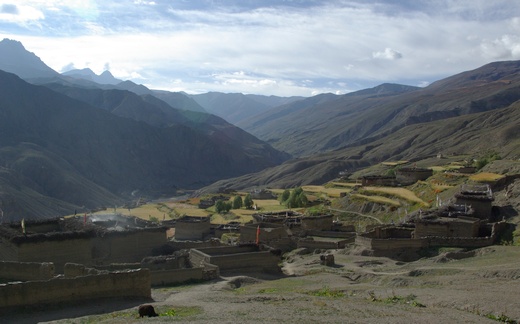 The Upper Dolpo is a remote highland in west Nepal, touching the Tibetan border. Until the early 1990s it was practically closed for Westerners and life there was in many ways the same as it had been the last centuries.
While trekking through Dolpo in 1995, Adelheid Dönges noticed that there were no schools at all in the area. Together with Uli Gruber of the Freunde Nepals association, she decided to do something about it. She searched and finally found a suitable local contact person to establish a school: Lama Karma Dhondup from Saldang. The Saldang community comprises 11 widely strewn villages, one of them is the popular pilgrimage site Shey Gompa on the flanks of the Crystal Mountain, Shelri Drugdra, which gave the name to the school.
In 1997, Lama Karma Dhondup formed a School Management Committee. A building site was chosen — slopes are steep in Saldang and a lot of initial work goes into levelling the ground. The necessary licence for establishing a school was obtained at the District Education Office in Dunai. The next step was assembling the building materials; stones and clay are abundant, but everything else is a challenge here: the building season is limited to a few summer months, every single piece of construction timber has to be transported by yak for several days, crossing a pass of 5300m.
Karma Dhondup invested a lot of resolve and energy, and in 1999, a beautiful school building could be brought into use. School started with 33 children, 2 teachers and courses in Tibetan, Nepali and English. The village population was very happy and thankful for this improvement.
Later, the school was extended with another class every year. In 2004, a new school building was added for the older children and in 2006, the Lower Secondary School was established. Today, about 70 children are attending the school, from pre-school to 6th grade
Times are changing, also in Dolpo. Other villages have schools now, too. Many locals have small solar panels and mobile phones, though they have network coverage only during their winter trips to the lowlands. Clothing is coming rather from nearby Tibet / China than from the home loom. But still, yak and goat are driven to the high pastures, barley and buckwheat are reaped by hand, and the rest of Nepal and the world is many days' walk away. And still, the state is having difficulty providing basic health and education services, and there are children that are not going to school at all or only for a few years. We still have enough to do.